The Liaison and Diversion Service help support individuals who identify with having Mental Health needs such as: Anxiety, Depression, Bipolar Disorder, Personality Disorders and more.
Mental Health Practitioners are appointed across all of our teams in West Yorkshire, who are located both within the community and the court arena.
Our community Mental Health Practitioners aim to offer fair access to Mental Health services for those individuals who have come through police custody and support them to access and engage in relevant support.
We have Mental Health Practitioners based in both Magistrates and Crown Courts across West Yorkshire. Their roles involve assessing and working with individuals in mental health acute and crisis situations. With knowledge of statutory and non-statutory services they work with partners to assess and support service users through the judicial processes advising on support for individual's mental health providing assessments and reports when necessary.
Find out more about the support we deliver in Courts by clicking here.
Our service also employs a Mental Health Nurse who specialises in supporting clients with Learning Disabilities and Neurodiversity.
Find out more about our Learning Disabilities and Neurodiversity pathway by clicking here.
Working with Community Links, a Personality Disorder Pathway has been developed in our Kirklees team to provide specialist support.
A large proportion of the offender population have personality difficulties or present with Personality Disorder (PD) traits. West Yorkshire Liaison and Diversion aim to appropriately identify these clients, to help to divert them to suitable support services. Clients with PD can be difficult to engage due to presenting with behaviours which may challenge, often creating a barrier to receiving support.
Practitioners have received training for Understanding Trauma and Introduction to Personality Disorder delivered by Personality Disorder Navigator, Michaella and Innovation and Pathways Manager, Nicola. Find out more by clicking here.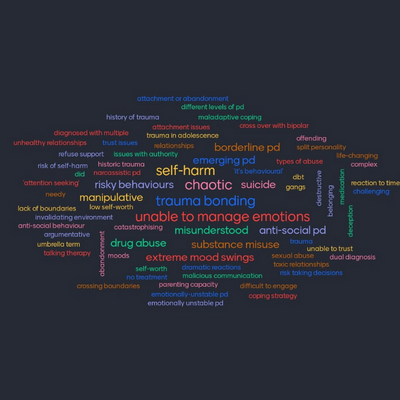 "I was in court and was told by the judge if I hadn't had the report provided by L&D I would have gone to prison."
"Amy has been an absolute super star, she goes above and beyond what is expected of her. No one has helped me like she has, whenever she called I knew I would feel uplifted after speaking to her. Very impressed with Amy, I would definitely recommend L&D."
"You have been brilliant in supporting me in such a short space of time and I can't thank you enough for what you've done for me."
"Thank you for all your help and your pre court report which really helped and influenced sentencing. Everyone I spoke to has been patient and respectful."