2022 marks the 50th anniversary of the very first Pride march in the UK. Hundreds of LGBTQ+ people and their allies bravely marched to Trafalgar Square to protest a society where they did not feel safe to be themselves. Their actions that day paved the way for half a century of progressive societal change for LGBTQ+ people.
LGBTQ+ Pride month is celebrated around the world throughout the month of June celebrating the contributions of LGBTQ+ people to society; and remember a troubled history and continuing fight for equal rights.
---
Inclusive workplaces have a huge part to play in making a world where LGBTQ+ people can fulfil their potential. West Yorkshire Liaison and Diversion endeavours to create an inclusive workspace not just for our service users, but also our dedicated members of staff. We recognise the importance of improving our knowledge and understanding of the LGBTQ+ community so to build strong relationships with our staff and service users. We aim to develop and sustain an environment where all staff embrace the LGBTQ+ community so that we can offer the best service possible to vulnerable people in the Criminal Justice System.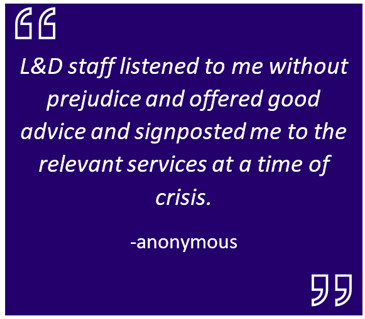 Our service has established a Diversity Inclusion Group that will focus on various aspects of diversity; with the inclusion of the LGBTQ+ community. This group has been built with various people with various expertise that can contribute to significant service development working to ensure that we meet the needs of all our service users. Our service continues to seek local support available for our clients who identify as LGBTQ+ sharing relevant updates among staff. We engage with training sessions to widen our knowledge and have completed a Cultural Cohesion Quality Mark to ensure our service is responsive to the culture of our service users.
---
STONEWALL
Stonewall stand for lesbian, gay, bi, trans, queer, questioning and ace (LGBTQ+) people everywhere. At Stonewall, they imagine a world where all LGBTQ+ people are free to be themselves and we can live our lives to the full. They are part of a vibrant global movement for change made up of LGBTQ+ people, allies, families and friends. Since day one, Stonewall have fought for freedom, for equity and for potential.
We at West Yorkshire Liaison and Diversion stand with Stonewall and recognise no one should face discrimination because of who they are or who they love, we pledge to stand up for LGBTQ+ rights. For further information about Pride, how you can get involved with Stonewall's Take Pride campaign and more, simply click on below image!