Wakefield Council wins national award for transformation of Children's Services
Wakefield Council are our lead provider who supports vulnerable young people and adults who are involved with the criminal justice system across West Yorkshire. A huge congratulations to Wakefield Council for winning the Children's Services category in the national LGC Awards (Local Government Chronical)!
The LGC Awards is one of the preeminent public sector awards in the country, judges comments included;
"An engaged and enthusiastic workforce supported by their innovative learning academy, the creation of a 'safe space' for social workers to practice and clear vision of next steps in achieving an outstanding status."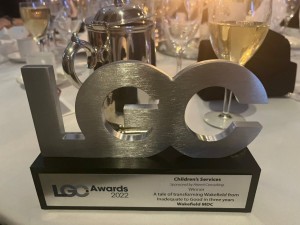 Wakefield's win follows taking itself from an inadequate rating across the board in 2018, to being judged three years later as soundly Good in every area, with outstanding leadership – this is believed to be one of the fastest improvements of a Council maintained children's services in the country. Regular consultation, work with partners, and innovative thinking was key to the Council's transformation and remains critical to continued improvement.
If you want to read more about all the LGC Awards and winners click here.