World Mental Health Day is an annual event recognised on the 10th of October, sparking conversation, and raising awareness about the importance of Mental Health and Wellbeing.
The theme of 2022's World Mental Health Day, set by the World Federation for Mental Health, is "making mental health and wellbeing for all a global priority".  
As we emerge from over two years of Covid restrictions, into times where it will be difficult for some people to cope with increases to the cost of living, mental health is more important than ever. We strive to deliver the best possible service to those who need our support, working collaboratively with partners to deliver mental health support.
West Yorkshire Liaison and Diversion recognises the importance of being able to access the appropriate mental health support and appreciate the need for specialist knowledge. Mental Health Practitioners are appointed across all our teams, located both within the community and the court arena.
Our community Mental Health Practitioners aim to offer fair access to Mental Health services for those individuals who have come through police custody and signpost them to the appropriate services.
We have Mental Health Practitioners based in both Magistrates and Crown Courts across West Yorkshire. Their roles involve assessing and working with individuals in mental health acute and crisis situations. With knowledge of statutory and non-statutory services they work with partners to assess and support service users through the judicial processes advising on support for individual's mental health providing assessments and reports when necessary.
Our Practitioners have also undertaken a Mental Health First Aid course, which is the help offered to a person developing a mental health issue, experiencing a worsening of an existing mental health issue or in a mental health crisis. The first aid is given until appropriate professional help is received or until the crisis appears to have been resolved. Mental Health First Aiders have a greater awareness of their own and others' mental health, they listen without judgment and can signpost individuals to the right help they may require.
Here's what our teams got up to in recognition of World Mental Health Day..
Brew Bonding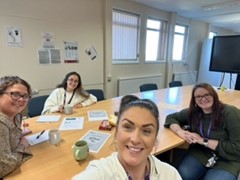 Our Wakefield Mental Health Practitioner invited the Wakefield team to join her to chat about encouraging positive working practices and the impact of positive mental health within the workplace over a brew and biscuits, providing an opportunity to connect and reflect.
In the UK, it is joked that a good cup of tea will cure many of the world's ills. Whilst science doesn't necessarily support the idea, the act of intentionally connecting with a colleague over a brew, real or virtual, can be incredibly restorative. Building a positive mental health culture begins with cultivating these informal social connections.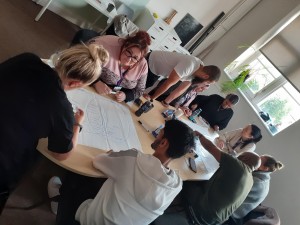 Personality Disorder Training
Our Personality Disorder Navigator in the Kirklees team held a Personality Disorder training session for the Kirklees team this week. Click here to learn about our Changes pathway developed with Community Links.
Useful resources
If you want to talk to someone right away, the NHS mental health helpline page has a list of organisations you can call for immediate help.
Samaritans helpline is available 24 hours a day, 365 days a year, for people who want to talk in confidence. The Samaritans are available to call for free on 116 123.
Mind are available to call 9am-6pm on weekdays on 0300 123 3393. Click here for information and resources about everyday living for those living with a mental health problem.
Mental Health Foundation have been working to make sure that mental health is treated on a par with physical health for over 70 years, calling on national and local governments to prioritise reducing the factors known to pose a risk to people's mental health, enhancing those known to protect it and creating the conditions needed for people to thrive. Click here to look at their best tips on how to look after your mental health.